HIR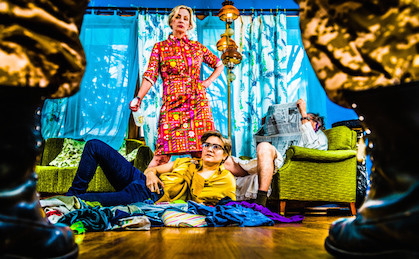 Feb 27 – Mar 22, 2015  (Mixed Blood Theatre, Minneapolis)
By Taylor Mac
Directed by Niegel Smith
Obie Award winning drag icon, queer performance artist, and playwright, Taylor Mac has penned a hilarious and unsettling comedy that is a deconstructed family drama put through a commedia wringer in a style he coins Absurd Realism. It is simultaneously a farcical and disarming satire, a discourse on power, and a blistering critique of "troglodyte fascist hetero-normative" culture.
Isaac returns home from picking up the dismembered remains of his fellow soldiers in Afghanistan, only to find that his home has likewise been blown asunder. His house is a mess, his formerly macho father has suffered a stroke, his mother (played by Sally Wingert, Star Tribune 2013 Artist of the Year) runs the disintegrating household with tyrannical glee, and his sister is now his transgender sibling, intent on subverting traditional gender-centric paradigms and linguistic forms–replacing him and her with the play's eponymous pronoun 'hir'.
"Taylor Mac's play is one of the most daring I've come across, and this Niegel Smith-directed production hits all its weird notes with a disturbing clarity that makes the experience bracing, nothing less than thrilling. The effect is near-perfect.
Hir is a show that will make your mind rattle like a popcorn popper, and your heart lurch with shades of the American experience and the sense of pressures having built to bursting across the suburbs both literal and figurative. It's also, easily, one of the best shows I've seen in Twin Cities theater over the past half decade." 

– Quinton Skinner, MN Monthly